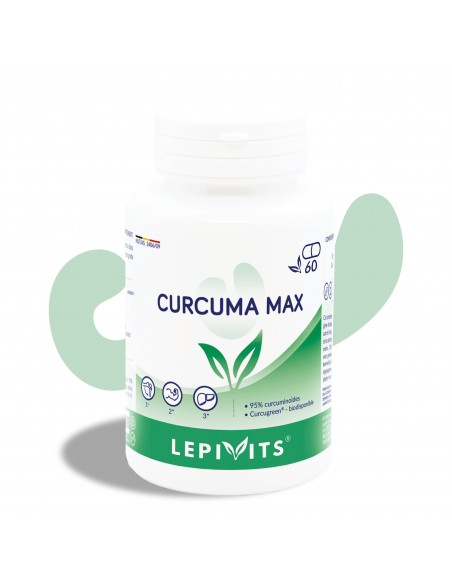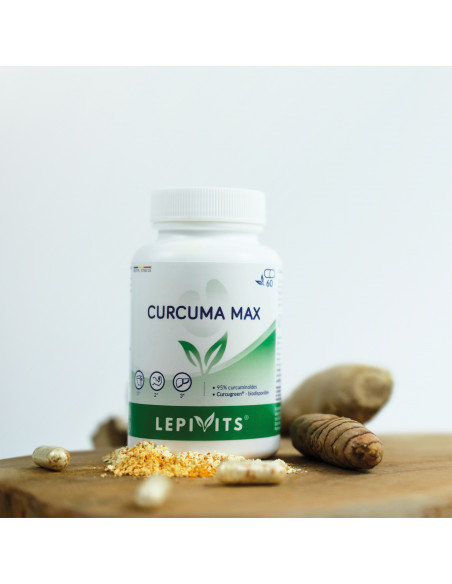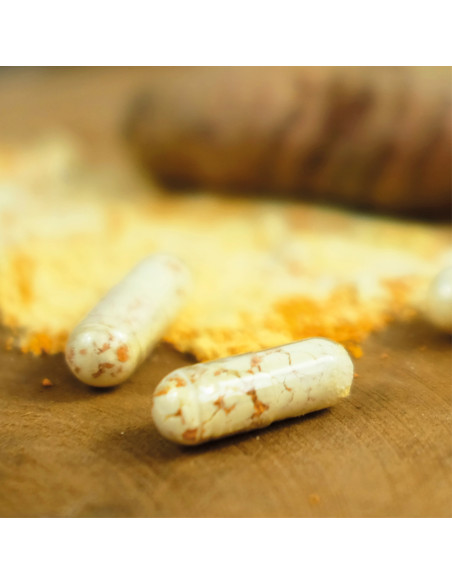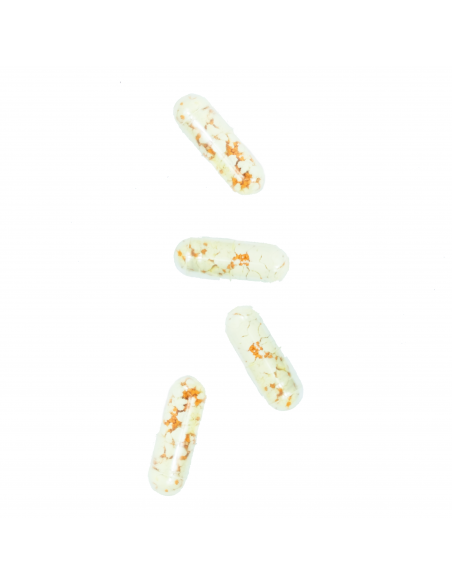 Free delivery from 49€ of purchase
Joint and muscle pain? Based on clinical tests, this patented turmeric extract "Curcugreen®" promotes the assimilation and retention of curcuminoids in the blood to increase its effectiveness.
The benefits
Liver

Curcumin contributes to the health and function of the liver and digestive system.

Joints

Curcumin helps to keep joints flexible and cartilage healthy.

Muscles

Turmeric helps to maintain normal muscle function.
Conditionnement

60 ou 120 pills

Composition

extract Biocurcumax (TM); bulking agent: rice starch, capsule shell: 100% vegetable pullulan.

Main indication

Joints - Bones

Specific indication

Chronic inflammation

Dosage

2 capsules per day with a glass of water at meals.

Recommandations

It is advisable not to exceed the recommended daily dose. A dietary supplement does not replace a varied and balanced diet and a healthy lifestyle. A dietary supplement is not a drug. Keep out of reach of children. Inform your doctor and / or pharmacist if simultaneous medication. For pregnant and lactating women, ask your therapist. Store away from light and moisture.

Notification number

PL 2406/13
The benefits of bioavailable curcumin without piperine!
Curcuma longa L. has a concentration of 95% curcuminoids. This nutritional supplement has excellent digestive bioavailability and good retention in the blood (7 to 8 times more absorbable than a classic extract of tumeric).

Contains 95% curcuminoids and phenolic agents:

95% c

urcuminoids (curcumin, demethoxicurcumin, didemethoxicurcumin)

natural phenolics compounds (atlanton, zingiberon, tumeron)
Curcumin helps:
to good health and proper functioning of the liver and digestive system.

the health of the musculoskeletal system. It helps protect and maintain flexibility of joints, tendons and muscles and relieve inflammatory pain.
Bioavailable Turmeric (Biocurcumax™) is highly concentrated in curcuminoids. This product contains curcumin, demethoxycurcumin and didemethoxycurcumin. In addition to that, phenolic compounds, such as tumerone, atlantone, zingiberone. This food supplement provides bioavailable turmeric and has an excellent retention in the blood (10 hours retention*).
Many laboratories produce nutritional supplements of turmeric combined with an extract of black pepper titrated in piperine. This association is not adequate given the pro-inflammatory nature of piperine on the digestive tract. To avoid this inflammation and ensure optimal assimilation of curcumin, Curcuma MAX LEPIVITS combines a patented form of curcuminoids (BCM-95® or BioCurcumax®), whose absorption and duration of action in the body is naturally superior (more than 7 times superior) to curcumin + piperine + lecithins (*).
*Research paper : A Pilot Cross-Over Study to Evaluate Human Oral Bioavailability of BCM-95® CG (BiocurcumaxTM), A Novel Bioenhanced Preparation of Curcumin; Indian Journal of Pharmaceutical Sciences July - August 2008

Nutritional information

Active ingredients


Per pill

Biocurcumax extract (TM)

contains 95% curcuminoids & natural phenolics compounds

250mg
Lack of collagen? Marine collagen hydrolisate (Naticol®) is rich in type I collagen.
Demineralization, hair loss? This extract of horsetail, rich in silicon, helps remineralization.
Reviews about this product
Show attestation
produits de bonne qualité

Valeur sûre depuis plusieurs années

Oui le conditionnement 120 comprimes est important. Il ne faut pas ramener les conditionnements à un mois pour ces des produits
Customers who bought this product also bought: