Glutappin is a dietary supplement based on L-glutamine, vitamin A, zinc and phytonutrients such as grape seed extract, myrtle extract and the patented turmeric extract "Curcugreen®".
The benefits
Immunity

Zinc and vitamin A contribute to the proper functioning of the immune system.

Lactic acid bacteria

The action of polyphenols and curcumin is combined with zinc, which contributes to a good cell division and a good assimilation of macronutrients.

Intestinal mucosa

The action of glutamine and zinc is reinforced by vitamin A which contributes to the maintenance of normal mucous membranes.
Conditionnement

90 pills

Composition

L-glutamine; bromelaïne, biocurcumin SG - curcuminoïdes + phenolic agents (Curcuma longa - rizhome), blueberry extract (Vaccinium myrtillus - fruit), grape seed extract (Vitis vinifera - graine), bêta-carotene, zinc citrate; cap shell: gelatine; bulking agent: amidon starch.

Main indication

Intestinal flora

Specific indication

Intestinal barrier

Dosage

Three pills a day with meals or prescription

Recommandations

Do not exceed the recommended daily dose. A Nutritional supplement does not substitute a balanced and varied diet and a healthy lifestyle. A Nutritional supplement is not medication. Keep from children. Keep your doctor/pharmacist updated in case of simultaneous use of other drugs. Ask your therapist if you're pregnant or breastfeeding. Not for children. Keep from humidity and light. Not recommended in case of hyperthyroidism and palpitations. Avoid taking caffeine at the same time.

Notification number

NUT/AS/PL : 2406/59
Regenerates and protects your intestinal mucous. Fight against intestinal porosity "leaky gut"!
This nutritional supplement helps the body to regenerate the inflamed intestinal barrier.
Zinc contributes in :
Optimal cellular division;
Protecting cells against oxidative stress;
Optimal assimilation of vitamin A;
Optimal Assimilation of macronutrients;
Normal functioning of the immune system.
Natural vitamin A  contributes in :
Maintaining normal mucus;
Normal functioning of the immune system;
Optimal cell division.
Glutamine promotes enterocytes [1-2-3].

Polyphenols are anti-inflammatory [4-5].

This nutritional supplement contains nutrients that are crucial to regeneration and protection of the intestinal mucous. Glutamine and zinc promote intestinal cells multiplication (enterocytes[1-2]) and completes the butyrate used by the colonocytes which induce an anti-inflammatory flora (reduction of colopathies). They have been proven to be very useful in restoring the intestinal barrier to avoid undesirable passage of insufficiently digested proteins [3] (food intolerances, food allergies, endotoxins, etc.). 
The added polyphenols (anthocyanins, pycgnogenol) as well as the natural antioxidant vitamin A, protect this mucous membrane and reduce intestinal inflammation.
Finally, the powerful anti-inflammatory properties of curcuminoiids[4] and the inhibition of COX2 as well as the anti-adhesion effect of white blood cells of bromelain (effect on the membrane of molecules before kinases)[5] intervene in the global anti-inflammatory protocol of the intestines.
Glutamine's effects on the digestive wall



Part of the Glutamine orally prescribed is used by our digestive mucous membranes as fuel, so not all of the Glutamine would be available for white blood cells, but studies show that it has a positive impact on the digestive tract (intestinal permeability) and on the immune system*.
*| Yalcin S et al, «Effect of glutamine supplementation on lymphocyte subsets in children with acute diarrhea», Turk J Pediatr, 2010, 52(3).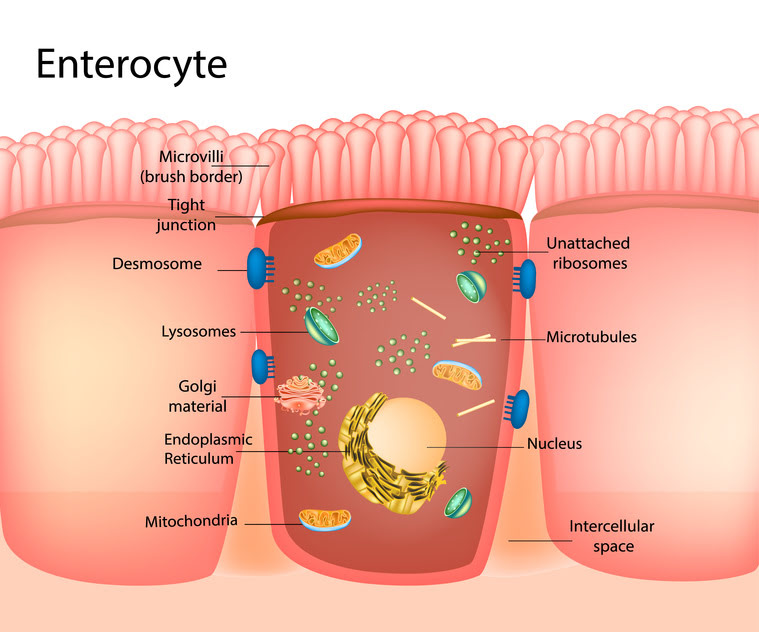 Nutritional information
NUTRITIONAL INFORMATION

3 CAPSULES

AR%*

L-glutamine

Bromelain 2500g du/g. 

Biocurcumin (BCM-95) 

of which curcuminoids 95%

Bilberry extract 

of which anthocyanosides 25%

Extract from grape seed 

of which OPC 95%

Beta-carotene 20% (Pro-Vit A) 

Element zinc

1500mg  

150mg  

100mg

-  

100mg

-  

100mg

-    

30mg    

69mg

-

-

-

-

-

-

-

-

125

221
* Intake Reference (directive 2008/100/CE modifiant -> arrêté 08.01.1992)
Studies
[1] Bertrand J et al, Glutamine Restores Tight Junction Protein Claudin-1 Expression in Colonic Mucosa of Patients with diarrhea predominant irritable bowel syndrome, J Parenter Enteral Nutr, 2015 May 13
[2] Yalcin S et al, «Effect of glutamine supplementation on lymphocyte subsets in children with acute diarrhea», Turk J Pediatr, 2010, 52(3).
[3] Jean Robert Rapin et al, Possible Links between Intestinal Permeability and Food Processing : a Potential Therapeutic Niche for Glutamine, Clinics (Sao Paulo), 2010, 65 (6) : 635-643.
[4] Bharat B Aggarwal et al, Curcumin : an orally bioavailable blocker of TNF and other pro-inflammatory biomarkers, Br J Pharmacol, 2013, 169 (8) : 1672-1692.
[5] Hale LP et al, Treatment with oral bromelain decreases colonic inflammation in the IL-10-deficient murine model of inflammatory bowel disease, CLIN IMMUNOL, 2005.
Reviews about this product
Show attestation
Livraison rapide et sans problème. En ce qui concerne le bienfait du produit, il faut attendre qq semaines. Merci
---
Customers who bought this product also bought: